WHO
About Inorgen
Inorgen is an advisory whose goal is to tap the research potential of most academia and research institutions, providing them a way to translate breakthrough discoveries from research into therapies for patients
WHAT
Access promising projects in their early phase
Inorgen builds close ties with universities, research centers, technology transfer offices, biotechnology companies and foundations to access promising projects in their early phase.
The selection process involves the evaluation of drug candidates from both the scientific and marketing perspective. Once established the collaboration, Inorgen performs feasibility assessment and de-risking activities in IP, pharmacy, regulation and clinical trials to turn these projects into viable assets to be proposed to external partners for drug development through pre-clinical and clinical stages.
To do that, Inorgen bridges with investors leveraging on its network and taking part in a selection of life science events to present the project and find the most appropriate partner.
FOCUS
Early-stage biotechnology
Inorgen focuses on early-stage biotechnology projects with exit potential.
The approach is agnostic in terms of therapeutic indication, with active search in Oncology, Auto Immunity, Chronic Inflammation, Gastrointestinal, Vascular and Rare Diseases. In this context, management advisory in different areas is offered to deal with the multiple tasks required in the drug development process.
FOOtprint
Europe. Major focus in Spain and Italy
Inorgen collaborates with specific entities to identify and translate promising therapeutic findings in biotechnology into drug development projects.
area of action
Inorgen's goal is to bridge the gap between discovery/early preclinical and phase II clinical trials.
Its aim is to translate research findings from academia and R&D institutes into druggable candidates to receive support by venture capital and biopharmaceutical companies.
model
With an entrepreneurial approach, Inorgen identifies promising compounds and therapies and partners with academia, research institutions, biotech companies and foundations.
Projects are scouted both through close ties with specific institutions, as well as through foundations and incubators/accelerators concentrating attractive deal flow for professional investors and venture industry. Projects are then incubated, de-risked and developed as drug candidates for pre-clinical and/or clinical programs.
Successful projects become the assets for the creation of stand-alone companies partnering with financial investors, biopharma companies or seeking dedicated grants and loans.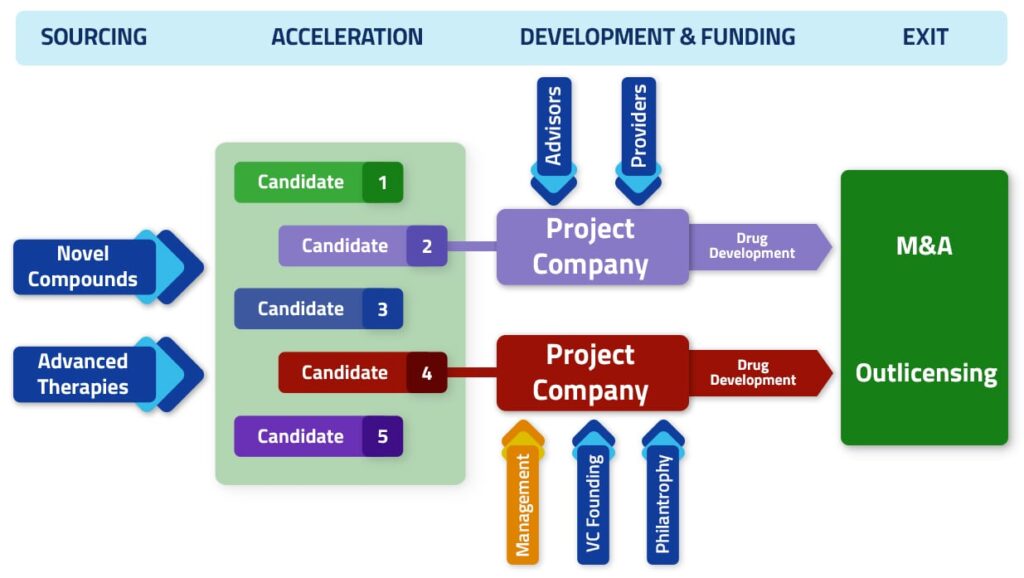 Acceleration and derisking activities
After sourcing, Inorgen executes a number of activities to comply minimum requirements to achieve support from external partners.
MARKET RESEARCH
∙ Competition analysis
∙ Possible scenarios
∙ Valuation
REGULATORY ACTIVITIES
∙ Scientific advice
∙ Orphan drug designation
∙ Other ad-hoc
EXPERIMENTAL STUDIES
∙ Pharmacology
∙ Toxicology
∙ PDM
∙ Etc.
PUBLICATION
(if necessary)
DRUG DEVELOPMENT PLAN
preparation
CLINICAL TRIALS
∙ Clinical trial design
∙ In-silico trials
∙ Benefit/Risk Sharing Agreements